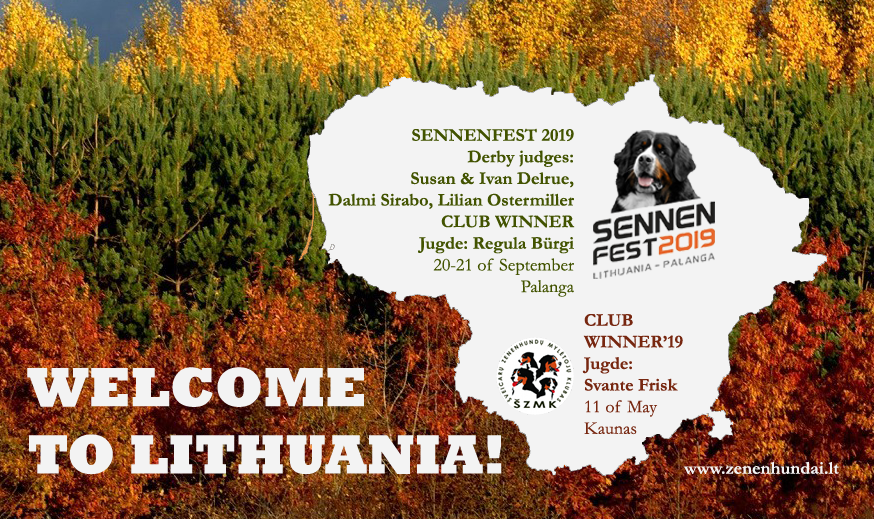 2019-05-11
Klubo nugalėtojas'19 / Club winner'19
Kviečiame planuotis 2019 metus! 2019 m. gegužės 11 dieną kviečiame į klubo specializuotą parodą – Klubo nugalėtojas'2019!
Registracija čia.
Pirma kaina: 30 eur (šuniukai, mažyliai ir veteranai – 15 eur) iki 03.01
Antra kaina: 40 eur (šuniukai, mažyliai ir veteranai – 20 eur) iki 04.01
Trečia kaina: 50 eur (šuniukai, mažyliai ir veteranai – 25 eur) iki 05.01
Specializuotos parodos teisėjas iš Švedijos – p. Svante Frisk. Svante Frisk yra tarptautinės kategorijos teisėjas, veislyno Kronblommas bendrasavininkas, visame pasaulyje žinomas ir vertinamas zenenhundų ekspertas. Mes labai džiaugaimės pakvietę šį puikų ekspertą!
We invite you to plan your 2019!! We will have our club show on the 11th of May – Club winner'2019!
First price: 30 euros (babies, puppies and veterans – 15 euros) till 03.01
Second price: 40 euros (babies, puppies and veterans – 20 euros) till 04.01
Third price: 50 euros (babies, puppies and veterans – 25 euros) till 05.01
We would like to introduce our club show judge – Mr. Svante Frisk. He is internetional category judge, co-owner of Kronblommas kennel and well know sennenhund expert. We are very glad to have him as a judge in our show!
2019-09-20 – 2019-09-21
SENNENFEST 2019 ir klubo paroda / SENENFEST 2019 and club show
Kviečiame į jau legendiniu tapusį zenenhudnų mylėtojų savaitgalį! Rugsėjo 20-22 dienomis Palangoje įvyks tarptautinis zenenhundų festivalis "Sennenfest"! "Sennenfesto" metu bus organizuojami seminarai, diskusijos, susitikimai, piknikai bei "Derby show", kurio metu kviestiniai svečiai – žinomi zenenhundų veisėjai išrenka "Sennenfest" nugalėtojus.
Tradicinis "Sennenfest'o" paradas ir Derby show vyks šeštadienį. Derby show teisėjai: Susan & Ivan Delrue, Dalmi Sirabo ir Lilian Ostermiller. Registracija čia.
Šalia "Sennenfest" renginių, rugsėjo 21-ą dieną, klubas organizuoja rudeninę specializuotą parodą, kurios metu teisėjaus labai garsi zenenhundų veislės žinovė, ekspertė iš Šveicarijos – Regula Bürgi (Apencelio, Berno ir didieji šveicarų zenenhundai). Ponia Regula taip pat maloniai sutiko pasidalinti savo patirtimi bei žiniomis seminaro metu. Entlebucho zenenhundus teisėjaus Erikas Piskunovas. Registracija čia.
We would like to invite you to legendary weekend for the sennehund owners of the year!
In the autumn, on the 20-22th of September, International sennenhund festival "Sennenfest" will take place! We have planned seminars, discussions, meetings, picnics and "Derby show" during the fest.
Famous breeders will select and nominate "Sennenfest" winners.
Derby show date – 21.09.2019, Judges: Susan & Ivan Delrue, Dalmi Sirabo and Lilian Ostermiller. Registration here.
Along with other activities during "Sennenfest", on 21st of September, club is organizing autumn specialized show where judge will be a very famous sennenhund expert from Switzerland – Regula Bürgi (Appenzeller, Berner and grosser schweizer senenhund). Mrs. Regula also kindly agreed to share her knowledge and expertise in the seminar. Entlebucher senenhunds will be judged by Erikas Piskunovas. You can find registration here.
Уважаемые любители Бернских Зенненхундов!
Оргккомитет ЗФ 2019 и Литовский Клуб Зенненхундов приглашает Вас на традиционный и уже ставший легендарным Зенненфест!
В этом году Зенненфест состоится в Литве в уникальном курортном городе Паланга!
Готовьте свои отпуска на бархатный сезон – две последние недели сентября!
Традиционный Парад участников и Дерби Шоу состоятся в субботу 21 сентября! В этот же день бонусом пройдёт и монопородная выставка зенненхундов Литовского Клуба!
Судьи Дерби Шоу :
– Сюзан и Иван Делруе (Бельгия, питмник Стокерибос – Van't Stokerybos)
– Далми Сирабо (Аргентина, питомник Сантон Сур – Canton Sur)
– Лилиан Остермиллер (США, питомник Де-Ли'с – De-Li's)
Вы можете зарегистрироваться здесь.
Главная Судья Монопородки (Бернский зенненхунд, Большой швейцарский зенненхунд, Апенцеллер зенненхунд) – Регула Бурги (Швейцария). Энтлебухер зенненхунд – Судья Эрикас Пискуновас (Литва). Вы можете зарегистрироваться здесь.
В воскресенье пройдут семинары, лекции и мастер классы!
О темах будет сообщено дополнительно.
Следите за нашими обновлениями!